We are delighted to announce that our Tomintoul 10 Year Old Single Malt Scotch Whisky has won a Gold medal in this years San Francisco World Spirits Competition! The 10 Year Old is sweet and honeyed with layers of crème caramel, toasted almonds with highlights of lemon zest and a grassy freshness.
A truly outstanding dram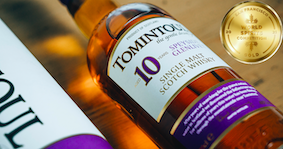 Tomintoul Tlàth has also received a Gold medal! These awards are testament to the hard work, and skill of our distillery team, who create our beautifully smooth & fruity Speyside single malts.